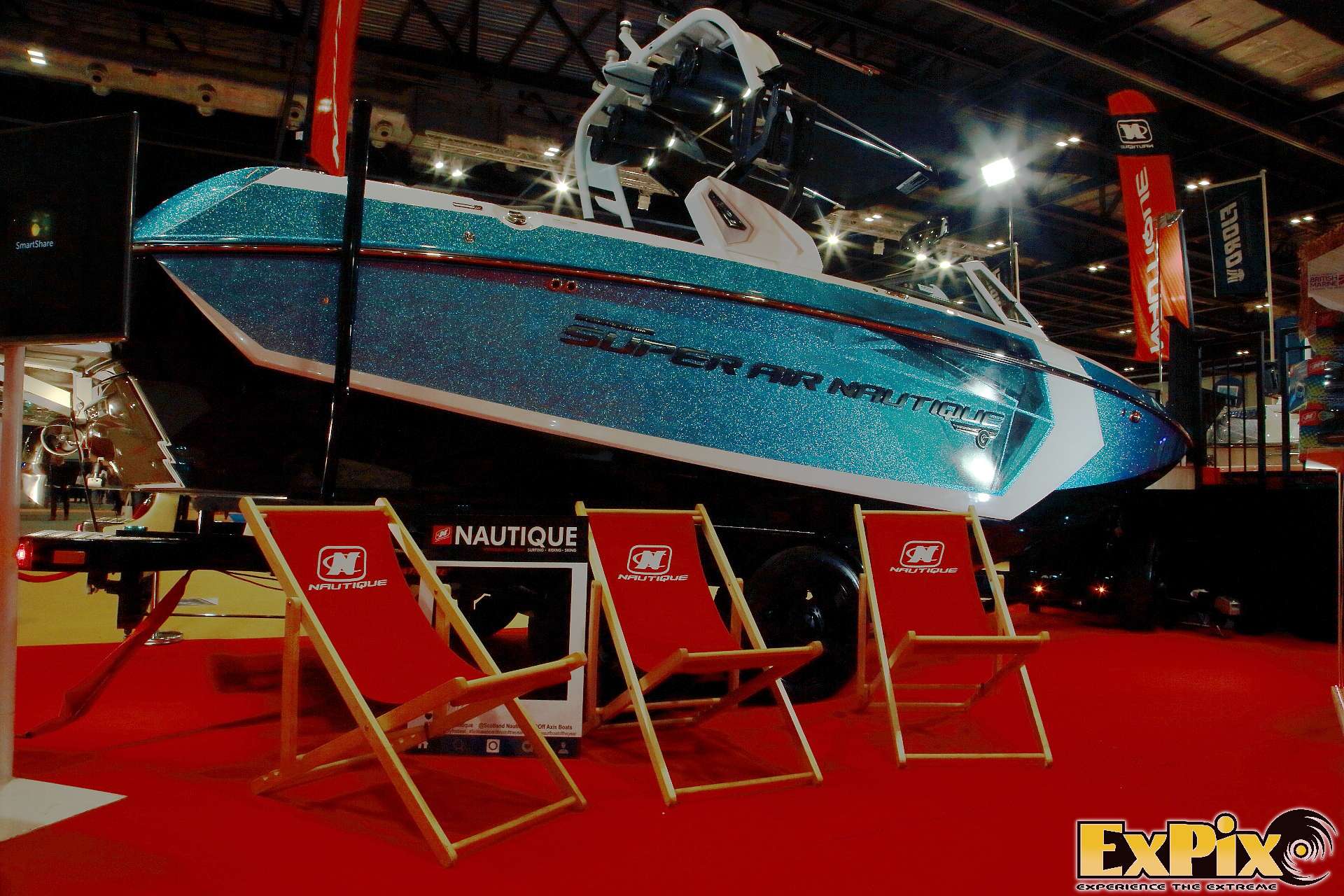 In January the ExPix crew dropped into the London Boat Show. As well as giving us a chance to catch up with colleagues in the industry, the London Boat Show is always a good place to check out new kit.
First up and we made our way to see what Nautique Boats had to offer and we weren't disappointed. Headed up by Scotland Nautique and Midland Nautique; the Nautique Stand with the array of Nautique Wake Boats was pretty impressive.
Fitted with the Nautique Surf System (NSS) with WAVEPLATE technology; the Super Air Nautiques have a reputation for producing the best wakes and surf waves in the industry. No need to move people in the boat or to change up ballast; surfers can switch sides instantly and customize their ride from behind the boat with the Nautique Surf System.
New features for 2018 for the Super Air Nautiques G-Series include a brand-new Integrated Steering Assist and a re-designed of the G-Series Flight Control Tower offering additional headroom. But if you needed anymore more convincing then the new colour schemes and mood lighting on the Super Air Nautique G-Series are off the scale; talk about quality!
We're really looking forward to capturing these boats in action in 2018 and grabbing ourselves a just a few sneaky rides too! ;-)
Sea Ray were also at the London Boat Show with their selection of Sport Series Boats, Sport Cruisers and Sport Yachts; opening up the possibilities for those that want to do that little bit more on the water.
At the other end of the spectrum were Red Paddle Co and JOBE with their ranges of inflatable stand-up paddle boards.
Celebrating their 10th anniversary, Red Paddle Co was demoing a limited edition of their award winning 10'6'' in purple. And if paddleboarding alone doesn't get you in trim then the yoga boards with yoga specific handles are perfect for fine tuning the core. And for windy days, Red Paddle Co have the perfect solution for that too. Their upgraded windsurf/SUP combos or WindSUP as they're known have got all the features you'd expect from a normal Red Paddle SUP, but with the added advantage of being able to add a sail, turning it into a windsurfer for those windier days; best of both worlds. We can't wait to try these out!