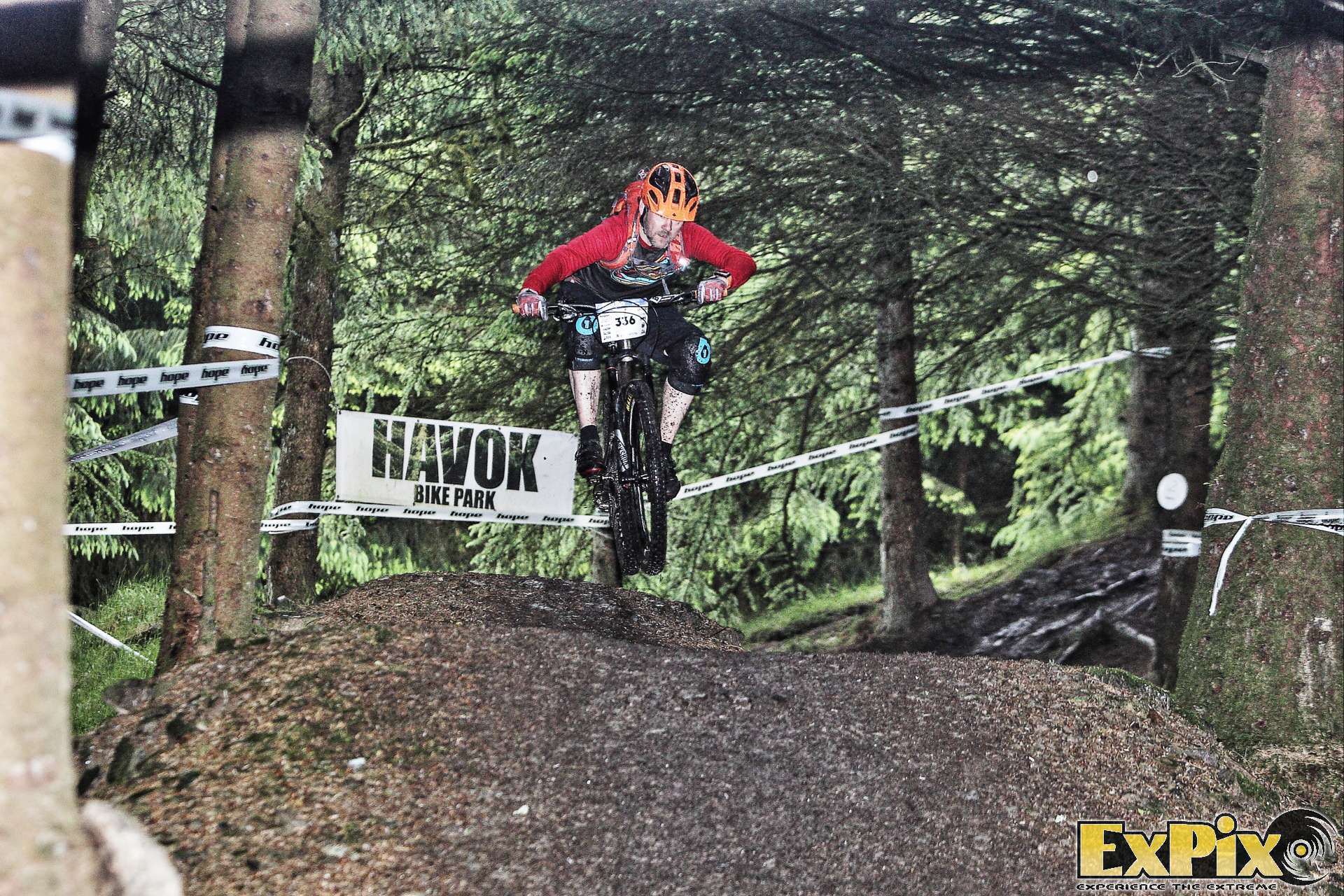 The PMBA Enduro Series is back for a 4th year. With 5 rounds in 5 different venues; ExPix got in on the action in Cornholme, West Yorkshire, as Havok Bike Park played host for Round 2 of the series.
Starting off in Bacup, MTB enduro riders had to navigate the steep rocky terrain of Lee Quarry before heading along bridleway into Cock Hill Wood, home of Havok Bike Park. And awaiting them at Havok was a series of unforgiving downhill runs, massive drops and gap jumps.
Designed to test every aspect of MTB riding; technical ability, physical and mental strength and endurance capabilities; enduro mountain bike racing is thought to be the ultimate challenge in MTB.
Organised by the Pennine Mountain Bike Association, the PMBA Enduro Series are run in accordance with BEMBA, (British Enduro Mountain Bike Association), guidelines. Set up by UK bike enduro organisers, BEMBA was created to bring a common rulebook and event guidelines for UK MTB enduro events.
Concentrating on Havok, ExPix Chief Photographer Ian Edmondson had his work cut out with the large entry. Trying to cover the major obstacles over the two stages was going to be difficult.
With the red run and the black run being slightly modified, (to confuse the locals according to the PMBA Facebook Page), there was plenty to watch; with big table tops, steep berms, drops, rock gardens and some nasty root sections.
Saturday saw some of the riders practicing on the Havok runs trying to work out their lines.
The rock garden seemed to be the main area of concern during practice; those that 'just went for it' coped ok with the tricky section, whereas those that tried to 'think it through' seemed to have an issue. In one 15 minute section there was 1 puncture and 3 people over the handle bars!
During race day it was a different story, although there were still a few surprised faces and expletives blurted out, as riders the hit key points too fast or 'unexpectedly'. We definitely had to cover our delicate ears from time to time! 😉
It was good to be back at Havok and see the improvements that have been made to the park. With options on the lines it looks possible to close/bypass sections due to erosion whilst keeping the stages open whilst repairs are carried out. And some of the existing berms have been improved along with jumps and the general flow of the tracks.
The park looks to be gaining momentum with a steady flow of riders. In addition to the regular free ride sessions, Havok have shown that they have the ability to host events such as the PMBA Hope Enduro alongside their own race days.
Check out a small selection of Action Photos below or go to the EVENT GALLERIES to view a full gallery of the MTB action at the PMBA Hope Enduro at Havok Bike Park
For more information about the park go to http://www.havokbikepark.com/
Or for more information about competing in the PMBA series go to pmba.org.uk/