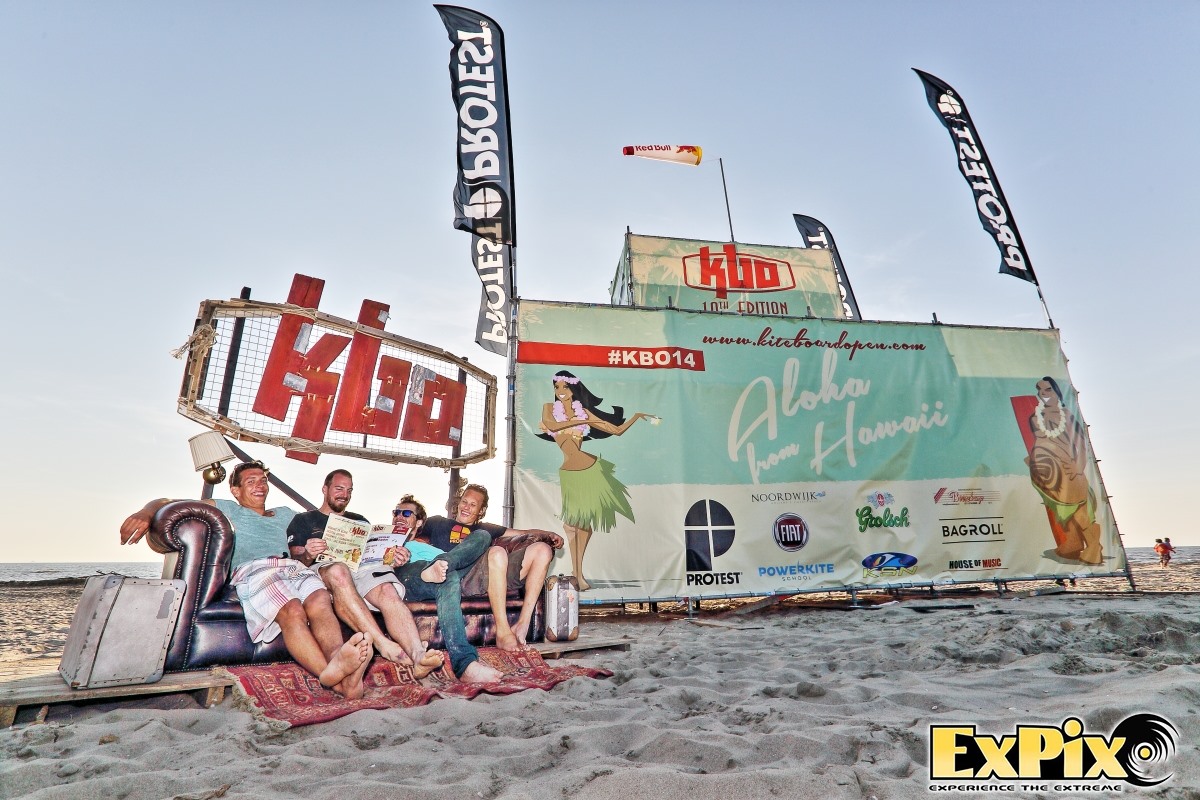 It's been a bit of a mission, but after travelling 2,500 miles through 9 countries, ExPix finally arrived in Noordwijk, the Netherlands for the Kiteboard Open 2014 (KBO); the final stop on the ExPix Euro Tour Part II.
If you've never been to the KBO then you're missing out on one of the best, most chilled out kitesurfing beach festivals there is. Well supported by the industry, the KBO is the place where all the top kite brands get together to demo their gear and where new brands come to introduce their products to the thousands of visitors that the event gets.
For the 10th edition the KBO team had pulled out all the stops; with a Hawaiian theme and the sun beating down, the event site was looking better than ever and as ever the vibe was perfect!
As the KBO team finished off the build on Friday evening, the wind kicked in and we managed to grab a few shots as kitesurfers got in a quick session ahead of the main competition.
Saturday morning and there was a hive of activity as the many, many industry brands supporting the KBO set up their stalls on the beach. With the skate ramp built, the Protest hot tubs at the ready, the kitesurfing, surfing, S.U.P. and skimboard clinics good to go, the surf machine powered up, the volleyball court mapped out and the vintage cars dotted around the site, it was all systems go!
With no wind forecast, the kitesurf comp was postponed until Sunday but there was still plenty to do as the S.U.P. races and skimboard clinics went ahead as planned.
In the afternoon there was live music from local acts on the Vibe Stage on the beach and in the evening the party moved to the main tent as Dutch reggae band, Splendid took to the Feelgood Stage.
Sunday came and despite the thunder and lightning on Saturday night and the initial rain at the start of the morning, the temperatures continued to soar throughout the day and with no wind, kitesurfing was off the agenda. As anyone who kites knows, you can't legislate for the wind, or lack of it! But where some kite events fail in no wind situations, the KBO has managed to easily adapt. By adding plenty of 'no wind' activities and with S.U.P. and skimboard comps running all day, the KBO kept the crowds on the beach, satisfying the many traders and sponsors who flock to support the event year on year.
Sunday night and it was time for the legendary KBO Beach Party. As ever the marquee and beach were rammed and the Dutch partied like only the Dutch know how to do!