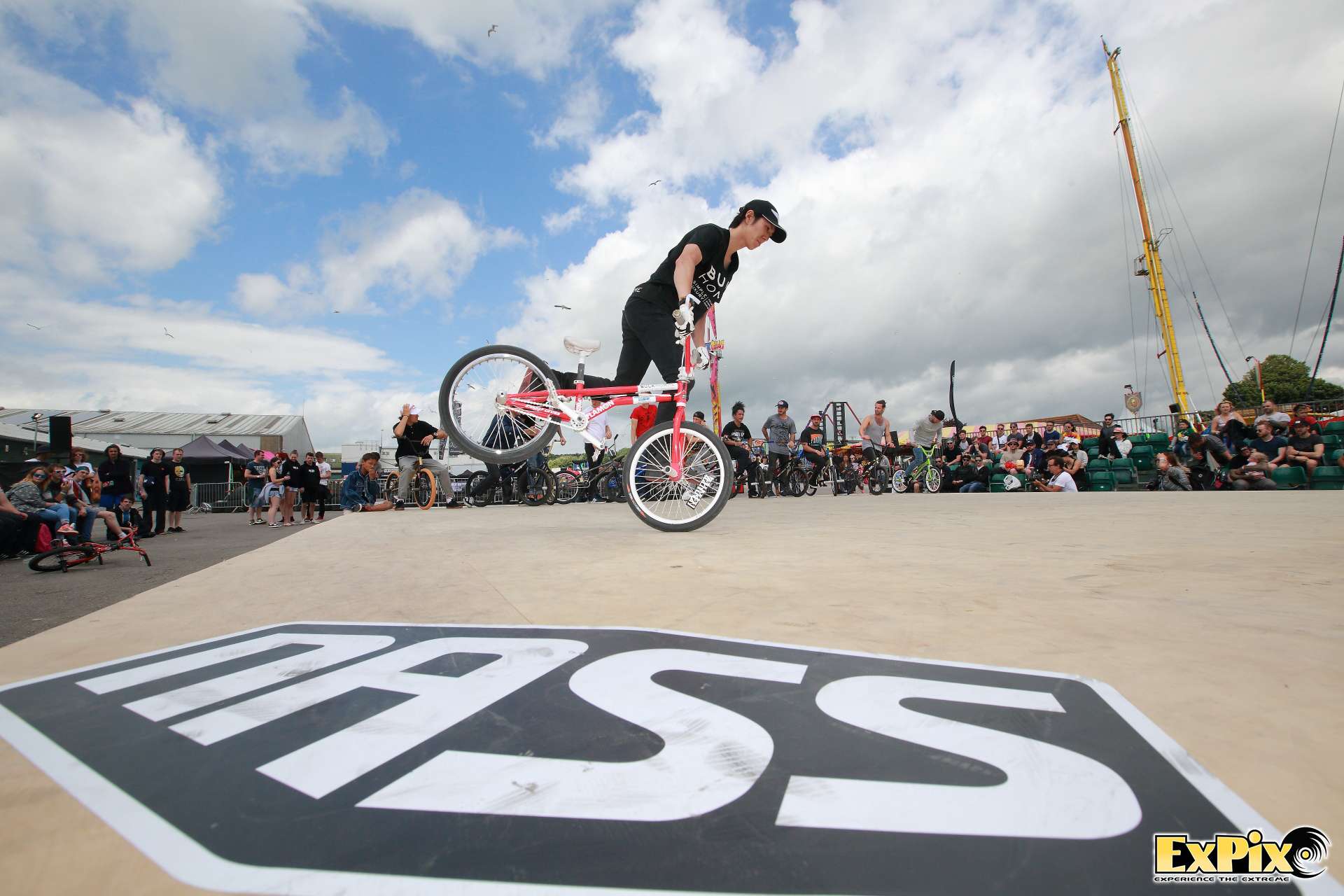 If you've ever been to NASS, then you'll know just how action packed the event is. From dawn till dusk, everywhere you look there are competitions, demos or practice sessions going on. BMX, MTB, flatland BMX, inline, skateboard, scooter, whatever you're into, they had it all at NASS 2016.
And whilst this jam packed event is great for the crowds; don't like one comp, just move onto the next; NASS can be one of the scariest events for photographers. If you're a mag and you concentrate on one sport you're fine; plonk yourself at the ramp or one of the pro parks and away you go.
But if you're trying to cover the whole event, as ExPix does, then it's a different story. Whilst you can get a 'flavour' of the event; with heats, qualifiers, demos and finals running at the same time, being in the right spot to get the best pics of the best riders doing their best tricks is a logistical nightmare and sometimes you have to take pot luck.
On the plus side, the NASS festival site was more compact this year; with the vert ramp being brought into the 'village area' along the main street, it was slightly easier to jump between arenas. On the downside, the windy conditions meant that some practice sessions, competitions and demos had to be postponed or cancelled altogether.
So all factors considered and with NASS playing host to the IBMXFF (International BMX Freestyle Federation) World Championships, the first time these championships have ever been to the UK, we decided to focus the majority of our attention there, whilst bagging what we could of the other sports throughout the weekend.
There's way too much action to comment on all of it, you'll be here all day if we did that, so we're going to let the images do the talking instead.
But for ExPix, highlights of NASS 2016 were:
Matthias Dandois' flawless run in the BMX Pro Flatland finals - This guy always amazes us, what he can do on a bike is just mind blowing.
Vince Byron's aggressive run in the BMX Pro Vert finals – His huge combo tricks landed him the first place on the podium
Matt Hoffman Demo – A true legend of the sport, it was great to have the opportunity to photograph Matt again
Results:
BMX Pro Park
1. Logan Martin - AUS
2. Mark Webb - GBR
3. Alex Coleborn - GBR
BMX Pro Vert
1. Vince Byron - AUS
2. Simon Tabron - GBR
3. Douglas Oliveira - BRA
BMX Pro Dirt
1. Nick Bruce - USA
2. Leandro Moreira - BRA
3. Daniel Sandoval - USA
BMX Pro Flatland
1. Matthias Dandois - FRA
2. Takahiro Ikeda - JPN
3. Matt Wilhelm - USA
BMX Amateur Park
1. Jack Tones
2. Ross Domanski
3. Lee Carter
BMX Amateur Girls Park
1. Izzy Burrell
2. Gillian Walker
3. Val Ward
BMX Amateur Vert
1. Jon Kearns
2. Aron Haywood
3. Rob Sidlow
BMX Amateur Flatland
1. Keegan Alves
2. Inigo Gutierrez
3. Billy Whitfield
MTB Pro Dirt
1. Nick Bruce - USA
2. Leandro Moreira - BRA
3. Daniel Sandoval - USA
Skate Pro Park
1. Danny Leon - ESP
2. Clay Kreiner - USA
3. Alex Decuhna - GBR
Skate Pro Vert
1. Jesse Thomas -GBR
2. Alessandro Mazzara - ITA
3. Clay Kreiner - USA
Skate Amateur Park
1. Aaron Jago
2. Luke McManus
3. Cam Barr
Skate Amateur Vert
1. Callum Waterton
2. Robert Ayton
3. Kieran Waterton