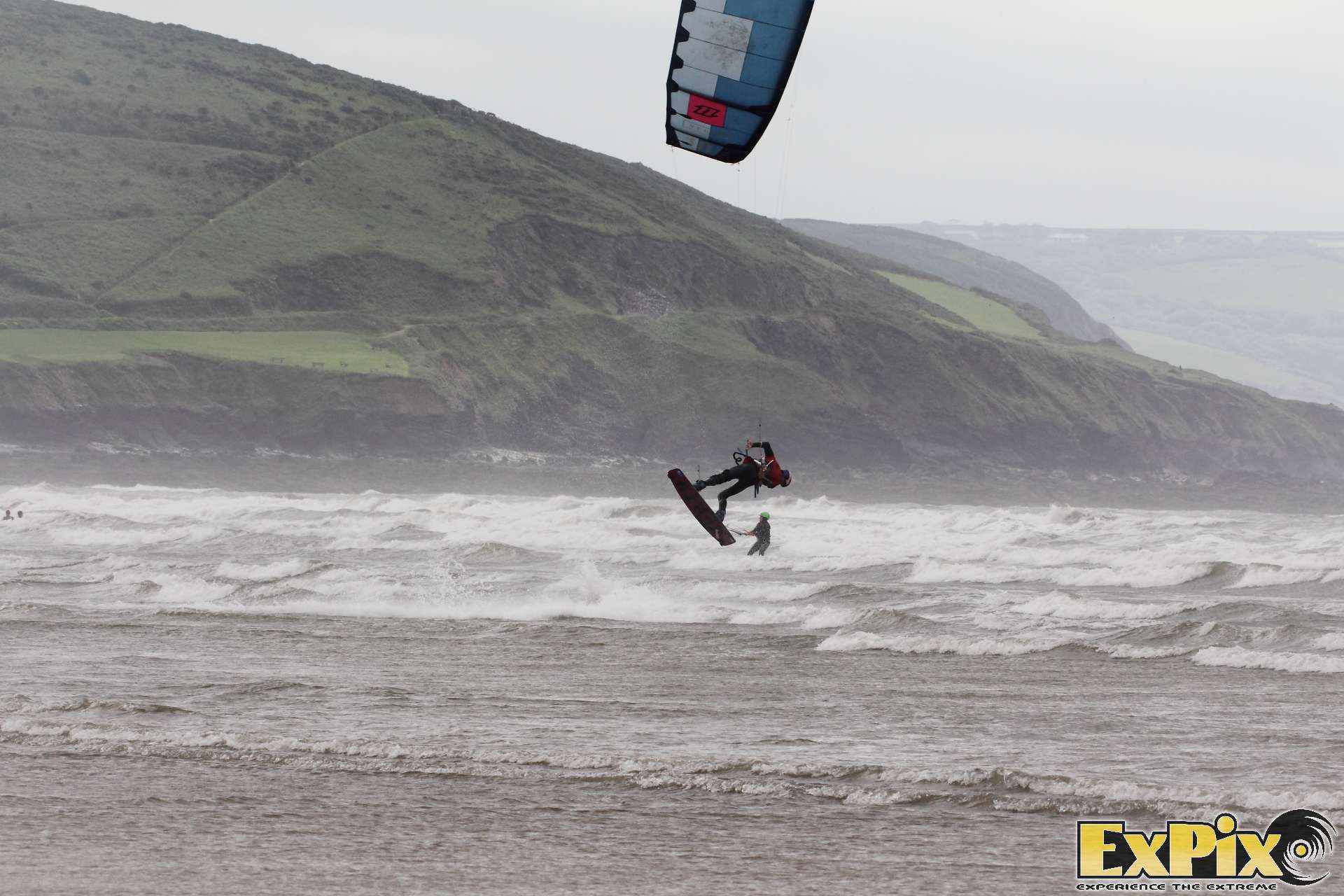 Westward Ho! was ablaze with sunshine on Friday 26th May as the race crew made final preparations for the first round of the 2017 British Kitesurfing Championships. But as night drew in, an electric storm of unearthly magnitude lit up the sky, as thunder crashed down with deafening thuds on unsuspecting campers. With more storms forecast, the competition was looking ominous.
In direct contrast to Friday, Saturday morning brought with it dull, wet and cold conditions. But more importantly, there was wind! After a quick briefing, competition quickly got underway with the Juniors heading up the format.
In the 15 years that ExPix have been following the British Freestyle Kitesurfing Championships, the vast majority of participants have been adults. Over the last few years, however, there has been a shift, with more and more participation from junior kiters, thanks in no small part to the Youth Training Camps provided by the British Kitesports Association and their team of dedicated youth coaches. For the first time ever in a British Kitesurfing Championships we were pleased to see a Junior Girls category. And it was good to see the introduction of the Junior Pro Boys category too; the idea being that the junior boys are spilt, with riders capable of doing handle passes competing in the Junior Pro's. This seems a much more progressive way to encourage participation from younger, less experienced riders, and a way of supporting them as they learn the ropes and build confidence in the competition arena.
In the Men's Pro category, old rivalry flared as George Dufty defended his title against 2015 BKC Champion, Sean Murphy and youngest of the legendary Bridge kitesurfing family, Tom Bridge. Whilst the other two may have had the edge when it came to age; Tom swooped in to take the win, with Sean in second and George in third place.
The field was opened up in the Women's Pros as 2016 champion, Rosanna Jury, wasn't there to defend her title. 2016 Vice Champion Sukie Robertson took the win with Jess Tucker and Holly Keenan taking second and third places respectively.
With the wind holding out all day, results were had in all categories and the day finished with prize giving in the Beach Bar Diner, Westward Ho!
Check out the kitesurf images below with full galleries being added soon.
The results:
Men's Pro
1st Tom Bridge
2nd Sean Murphy
3rd George Dufty
Women's Pro
1st Sukie Robertson
2nd Jess Tucker
3rd Holly Keenan
Masters
1st Pete Jones
2nd Matthew Bunn
3rd Kevin Matthey
Junior Pro
1st Max Bartholomew
2nd Jakob Stack-Kral
Men's Amateur
1st Russell Farrington
2nd Harry Way
3rd Harry Calvert
Women's Amateur
1st Emma Wolstenholme
2nd Sarah Barkway
3rd Lizzie
Junior Boys
1st Stan Hart
2nd Ben Mellor
3rd Ben Duffin
Junior Girls
1st Rachel Hooper
2nd Jasmine Wallis
3rd Maddie Evans