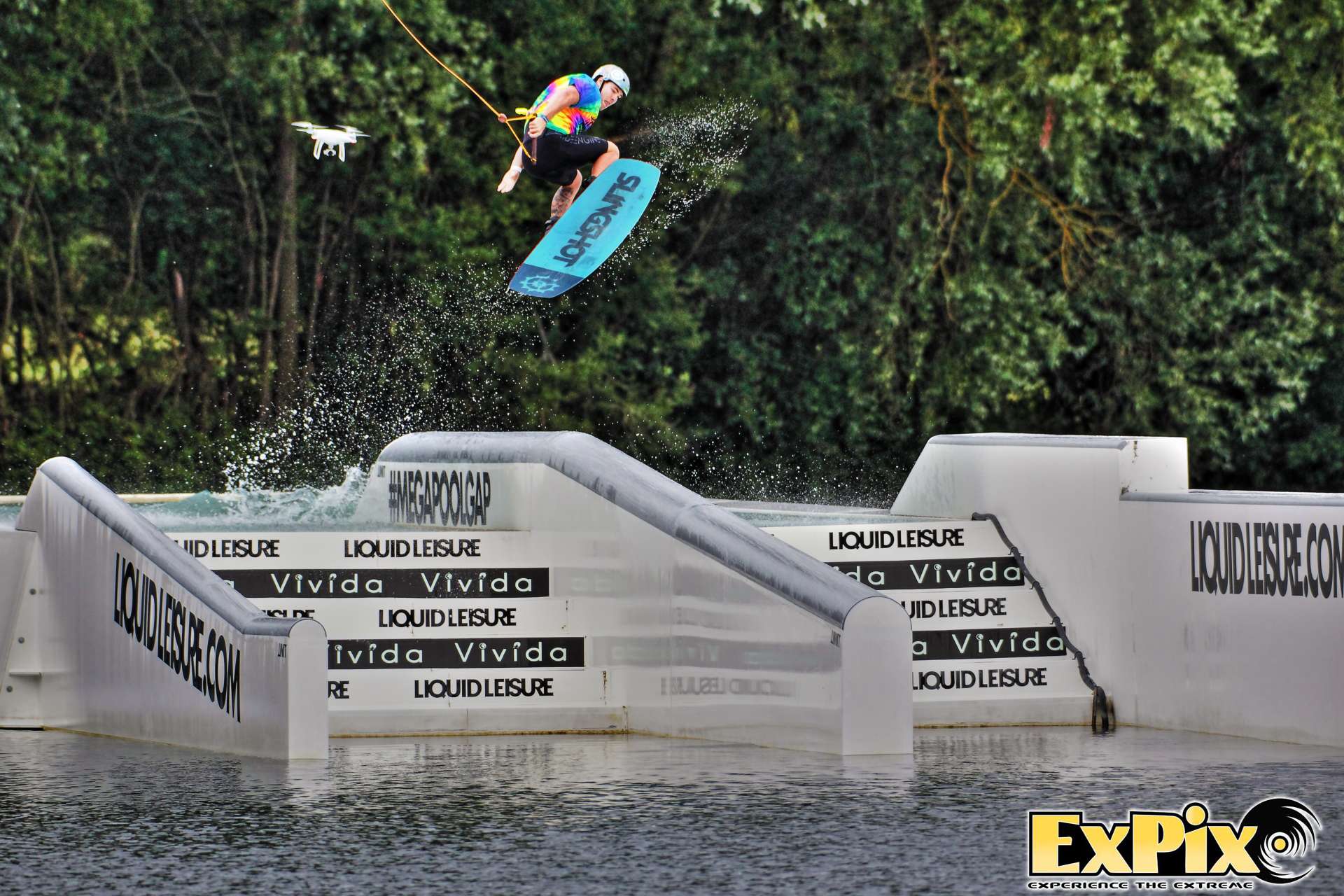 Liquid Leisure was host once more to the Plastic Playground International Wakeboard Championships on 13th – 15th July 2017. And with $46,500 in the prize fund and some of the world's best wakeboarders in attendance, it was set to be an awesome weekending of wakeboarding action.
Kicking off the event on Thursday was the Junior Plastic Competition. After a practice session in the morning, junior riders from 14 countries met in a series of 8 heats, with the top 2 riders from each heat going through to the 16 rider 'Head to Head' (H2H). With everything to play for, including $5,000 in the Junior Prize Pot, the level of from the juniors was crazy; so much so that 5 of the junior riders went on to compete in the Pro Men's Qualifiers on Friday, with Riley Dillon and Theo Balsa making it through to the Pro Men's H2H at the main Plastic Playground event on Saturday.
Artus Bryan, Jadon Scures, Maxime Roux, Riley Dillon, Ziv Zavaro, Kieran Owens, Pierce Bishop, Enzo Asseraf, Noah Gessi, Loic Deschaux, Kallum Anderson-Wilson, Stefan Hahn, Brett Powell, Theo Balsa, Trent Stuckey and Ben Frisby qualified for the Junior H2H, with, Bishop, Deschaux, Zavaro, Hahn, Dillon, Balsa, Scures and Stuckey making it through to the Junior Semi Finals.
On Friday the Pro Qualifiers got underway and boy, were we in for a treat. When judges said that they wanted the riders to 'mix it up', the riders responded.
First up were the Pro Women, and these girls gave it everything they had, with Maxine Sapulette, Sanne Meijer, Angelika Schriber, Taylor McCullough, Madison White, Claudia Pagnini, Melissa Colborne and Maryh Rougier making it through to the H2H. After some really tough heats; Maxine, Taylor, Claudia and Maryh earned a place in the Pro Women's Semi-Finals to ride against invited riders; Anna Nikstad, Courtney Angus, Julia Rick and 2016 Plastic Playground Women's Champion, Jamie Lopina.
The Pro Men's Qualifiers followed next and faced with a total Prize Purse of $30,000, everyone wanted in on the action.
With 22 obstacles, the Plastic Playground course was really technical, and as everyone thought, didn't leave any room for big air tricks; everyone that is except Liam Peacock. Not content with riding the Pool Gap, Liam jumped the entire obstacle, earning himself a bird's eye view of the drone!
Making it through to the Pro Men's H2H were; Freddie Carter, Joey Battleday, Ariano Blanik, Brady Patry, Jamie Neville, Nic Leduc, Pedro Caldas, Matty Muncey, Riley Dillon, Liam Peacock, Theo Balsa, Jascha Wronka, Conrad McIntosh, Blake Bishop, Bobby Carne and Victor Salmon.
Dillon, Balsa, Bishop, Salmon, Battleday, Blanik, Neville and Muncey went on to land places in the Pro Men Quarter finals, riding against the 8 Pro Men Seeded Riders; Daniel Grant, Dominik Hernler, James Windsor, Yonel Cohen, Busty Dunn, John Drieling, ,Felix Georgi, and defending 2017 Plastic Playground Pro Men's Champion, Aaron Gunn.
Saturday and it was Finals day. We might have swapped the strawberries and Pimm's for burgers and Peroni, but let's just say that when it came to talent, Plastic Playground had as much class as the Wimbledon Finals!
The morning was given over to practice sessions, with riders cramming in as much time on the water as they could before the main event started.
Quarter and Semi-Finals were hard fought, with the number of 9's being thrown of the final kicker being absolutely insane! The best heat has to go to Busty Dunn & Aaron Gunn in the Pro Men's Semi-Final. With a killer run and throwing in a 10, Busty looked to have nailed it. But Aaron Gunn had other ideas. Eager to retain his title, Aaron had everyone's adrenaline pumping with an unbelievable round which scored him the win. In the Pro Women's Semi-Finals, respect has to go to Julia Rick who, after taking an edge and smashing herself into the water where she was 'rescued' by fellow wakeboarders; got straight back up and at it to compete in the Pro Women's Final and a chance to bag herself some of the Pro Women's $11,500 prize fund.
Earning well deserved places in the Finals were:
Junior Plastic: Loic Deschaux, Stefan Hahn, Trent Stuckey and Riley Dillon Pro
Women's Final: Courtney Angus, Anna Nikstad, Taylor McCullough and Julia Pro
Men's Final: Daniel Grant, Matty Muncey, Aaron Gunn and Ariano 'Ari' Blanik
Jamie Squibb and Ryan Pasch from Squibb Freestyle were on hand with a FMX display to give light relief from the tension of the day. But by the looks on the spectator's faces as Squibb pulled off a backflip, we're not sure much relief was had!
So after 3 days of wakeboarding action, it came down to 12 riders competing in the finals for the prestigious Plastic Playground titles.
In the Junior Plastic Finals, Canadian wakeboarder, Riley Dillon showed what he was made of. Not content with competing in the Pro Men's Quarter Finals, Riley went on to take the Junior Plastic Championship title. Following in second place was USA rider, Trent Stuckey; his first time outside of the USA proving to be lucky for him! Stefan Hahn from Austria came in 3rd with Loic Deschaux from France coming in 4th place.
Julia Rick fought hard in the Pro Women's final. Overcoming her earlier nasty crash, she went on to take 1st place, climbing up the podium from her 2nd place position in 2016. Also moving up the podium was Anna Nikstad who, having took 3rd place in 2016, jumped to 2nd place in the 2017 final. Joining her on the podium was Australian rider, Courtney Angus, with Taylor McCullough from the USA coming in 4th place.
The Pro Men's Final was hotly contested with Aaron Gunn having to give it all he had to retain his title as Ariano 'Ari' Blanik was close on his heels. Daniel Grant from Thailand took 3rd place with Matty Muncey in 4th The weekend closed with the Presentations and some exciting news about a Plastic Playground World Tour for 2018 – Watch this space as we'll be bringing you all the latest development on that front!
Results
Pro Men
Aaron Gunn – Australia
Ariano 'Ari' Blanik – Germany
Daniel Grant – Thailand
Matty Muncey - UK
Pro Women
Julia Rick – Germany
Anna Nikstad – USA
Courtney Angus - Australia
Taylor McCullough – USA
Junior Plastic
Riley Dillon - Canada
Trent Stuckey – USA
Stefan Hahn – Austria
Loic Deschaux – France