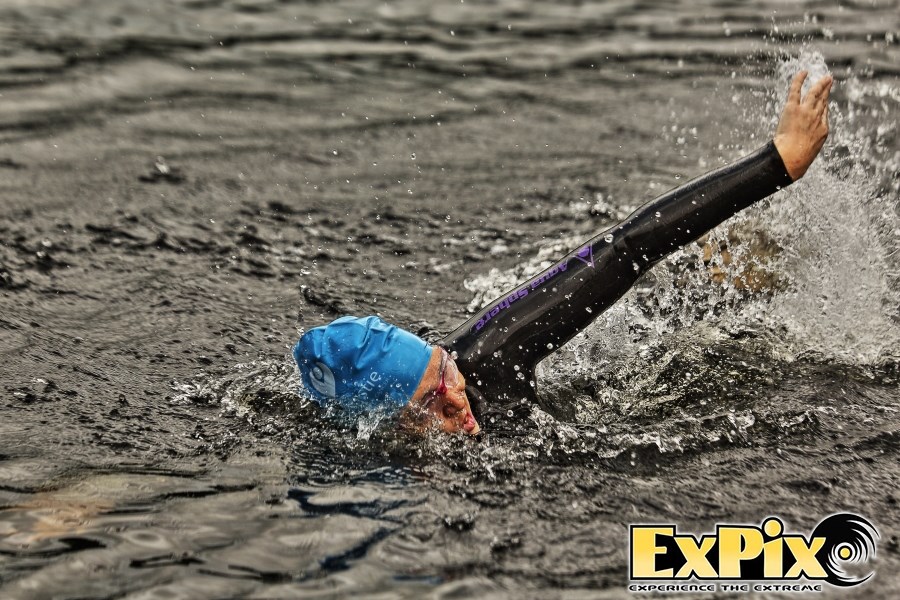 You might be a good swimmer in the pool but if you ever try open water swimming you'll soon find that it's a whole new ball game. In the pool there's no issue with visibility, temperature and navigation and whilst there's a 'deep end', if you're getting tired or struggling, there's always the side of the pool to hold onto.

But depending on where you choose to swim, in open water swimming you could well have little to no visibility under the water, the water temperature can be so much colder, you may have to deal with currents and tides and then there are the hidden obstacles, wildlife, weeds and possibly pollution to contend with. Oh and don't forget the depth, in some places you can forget putting your feet down or holding onto the side or pool end!
So why do it you may ask? Done safely open water swimming can be exhilarating and gives a sense of freedom and oneness with nature that lane swimming in chlorinated water just doesn't. If you've ever experienced trying to train in a pool whilst manoeuvring round the windmill armed backstroke swimming guy, or whale diving submerging breaststroke swimming woman, who despite not being in any way competent swimmers, still choose to swim in your training lane and all without any intervention from the pool attendants, then you'll understand how frustrating training in a pool can be.

Whilst it's possible to do open water swimming in your normal swimwear; wetsuits can provide added protection. And if you're thinking of entering an organised open water swim, then it may be compulsory to wear a wetsuit.

So if you're an inexperienced open water swimmer and don't own a wetsuit where do you start? Will a normal 'surfing' wetsuit do or should you go for a wetsuit designed for swimming, a triathlon wetsuit, and what's the difference between the two?

You may have 'played' in the sea in a surfing wetsuit, but trying swimming any distance and you could find that the thickness of the wetsuit alters your position in the water and may well restrict your movement, particularly when swimming freestyle.

Modern triathlon wetsuits have been around since 1987 and were designed to provide significant advantages for triathlete swimmers.
In a nutshell triathlon wetsuits:
1. Have thinner sections of neoprene or more pliable rubber around joints; shoulders, knees giving more flexibility in the water.
2. Have a slick external surface layer which reduces water friction allowing for a faster swim
3. The buoyancy in triathlete wetsuits is designed for swimming ensuring your legs are positioned correctly in the water
4. Have long zippers to facilitate quick removal

The research and technology that goes into the design of triathlon wetsuits is immense; wetsuits can be tailor made and designed specifically for your style of swimming and the tight fitting high specification wetsuit can shave seconds off your time, but these come at a cost. And whilst the material used in high end wetsuits is great for reducing drag, it can tear easily, so might not be the best for the casual swimmer who may enjoying scrambling around on river banks or lakeshores or taking a rest whilst sitting on rocks.

When buying a wetsuit, first and foremost it's important to get the right fit; the wetsuit should fit snuggly, especially around the groin and the shoulders, but not be so tight that you can't breathe. You need to measure your weight and height and match these up with the manufacturer's size guide and ideally try the wetsuit on before purchase. You also need to make sure that the buoyancy in the wetsuit matches your style of swimming so it's important to read the manufacturer's guidelines and specifications and, if you can, try the wetsuit out before you buy one as they do feel different in water than on land. You can do this by hiring different wetsuits or you can go to one of the more specialist retailers in the UK where you can try the wetsuits out in a pool before making a purchase; a perfect way to try out a variety of wetsuits without the hire costs.

For the more causal or first time open water swimmer it's probably best to start with a less expensive, entry level triathlon wetsuit. Still offering excellent buoyancy and flexibility, these entry level suits are often more generous in fit than the high end suits so feel less claustrophobic and more comfortable which is ideal if you intend wearing them for any length of time.

Aqua Sphere, a leading brand in innovative aquatic products, offer a variety of triathlon wetsuits and their Powered Pursuit Wetsuit range in men's or women's fit is a designed for the entry level swimmer in mind. Perfect for those just starting out, the Aqua Sphere Powered Pursuit Wetsuit is superbly stretchy for good movement, packed with features and at SRP £185.99 is exceptionally good value.

For the purpose of this article we got to try out the Aqua Sphere Powered W-Pursuit Wetsuit (Women's Fit). From the start the wetsuit was easy to put on and got easier once the wetsuit had been used a few times. For anyone inexperienced or who hasn't quite mastered the art of wiggling into a wetsuit, this really is a plus point. The long zipper makes it easier to zip up the wetsuit and whilst manageable on your own, a little help in the first instance doesn't go a miss.
Once in the water and swimming freestyle in the Aqua Sphere Powered W-Pursuit Wetsuit is a doddle! The varying thickness and way that the speed panels are configured together with the strategically placed 1mm Bio-Stretch Zone under the arms and down the sides, allows for maximum range and ease of movement. The buoyancy and position in the water is excellent too; legs weren't too high meaning that the feet were under the water making it possible to swim breaststroke; again perfect for the novice or less confident swimmer.

The tight fitting but flexible panels used on the ankle and wrist cuffs are the same as those used in the high end Aqua Sphere wetsuits. Comfortable to wear these panels are tight enough to minimise water getting into the suit but yet flexible enough to allow for easy removal of the suit. And for added warmth, again important for the entry level swimmer; the Pursuit has a 5mm Thermo-Guard™ neoprene body panel around the core; what more can you ask for in an entry level wetsuit!

Features:
BIO-STRETCH ZONE Strategically placed 1mm stretch zone - allows for max range of motion
Material: Super stretch Yamamoto 38, SCS Coated
Aqua-Grip™ cuffs and Aqua-Flex™ collar seal to keep water out
Quick release ankle transition panels
Aqua Drive™ 4ml core body panel maximizes buoyancy and reduces drag
Thermo-Guard™ 5ml core body panel to retain body heat
Quick-drying
100% UV protection
Easy-pull deep back zipper
Once you've sorted out your wetsuit the next thing you need to do is get yourself a decent pair of goggles. Being able to 'spot' in open water is really important and doing this with minimum effort is even better. Whilst ordinary goggles are fine for pool swimming, you may find that the frame impedes your vision when swimming in open water meaning that you may have to turn, tilt or lift your head more which will undoubtedly effect your swimming.
The Aqua Sphere Kayenne Goggles won the Goggle of the Year Award in Tri Plus magazine in 2013 and we were lucky enough to give them a try. If we had to describe them in one word it has to be Awesome!
For a start the fit is so, so comfy; the Kayenne Goggles are really lightweight and the latex free Softeril is supersoft, sitting nice and snug on the face without sucking into the eyes or leaving red marks. Next they are easy to adjust; the Aqua Sphere's Quick-Fit technology, one-touch buckle system makes it incredibly easy to adjust the goggles even when swimming. Then there's the vision, a whole massive 180 degrees of it! Wide-angled peripheral vision, 4-point expanded vision and up and down visibility making it easier for swimmers to navigate their swim, all with a choice of clear or tinted lenses; absolutely perfect for open water swimming! And all at a SRP of £20.99.
Features:
Oversized ultra durable Plexisol lens for 4-point expanded, 180-degree visibility
One-touch, Quick-Fit Buckle for perfect fit with adjustments - even while wearing
Stabilizing nose bridge keeps fitting secure and comfortable
100% UV protection
Antifog & UV lens treatment for long lasting clarity
Silicone strap for comfort and durability
For more information about Aqua Sphere and to see their full range of products visit
Aqua Sphere