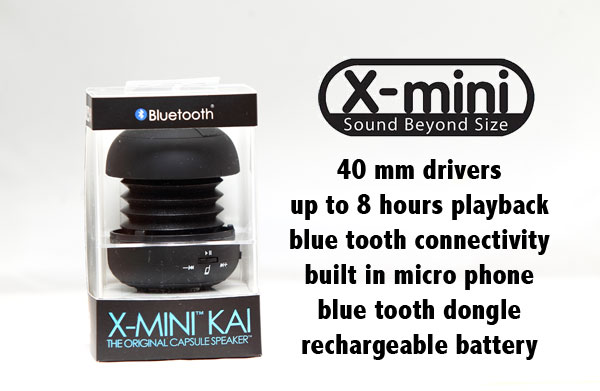 X-Mini KAI Capsule Speaker

You know what it's like when you're travelling; more often than note you're limited on space. And when flying you have the added headache of your kit alone exceeding the weight allowance, meaning you've got to be 'creative' to avoid the excess baggage charges. As always it comes down to compromising on those all-important personal items that you need to take.

Sound familiar? Then the X-MINI KAI Capsule Speaker might just be for you!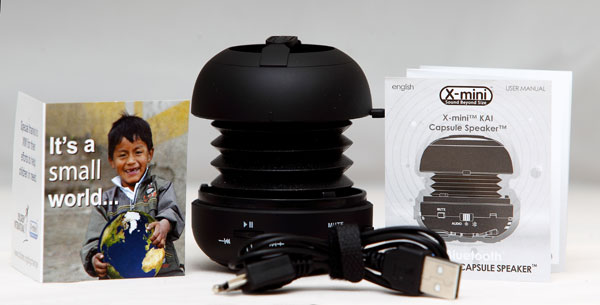 Marketed as – 'The Next Generation In Portable Sound', the X-Mini KAI Capsule Speaker certainly impressed the ExPix team. With its robust structure, its handy compact size, meaning it can fit easily into small spaces, and being lightweight, making it easy to carry around in your pocket, or hand luggage, or even clipped onto a keyring; this nifty little gadget is perfect for people on the go.

With its larger 40mm driver, used in in its compact state the X-mini KAI Capsule Speaker projects richer and fuller sounds. But extend it easily and effortlessly to its full height of 8cm and, thanks to the patented extendable vacuum that mimics the resonance of a sub-woofer (Bass Xpansion System), the X-mini is capable of producing explosive volume and bass over ten times its physical size. And at 10m, the range is not bad either.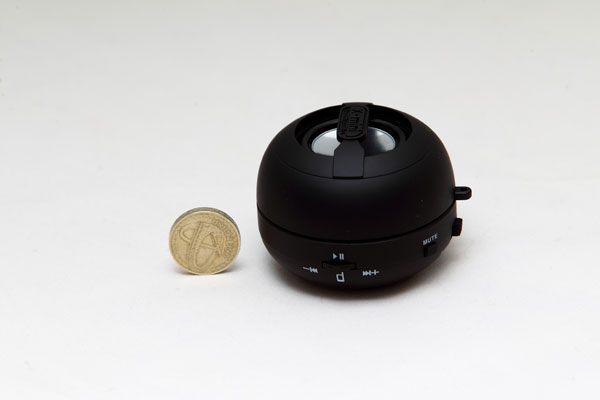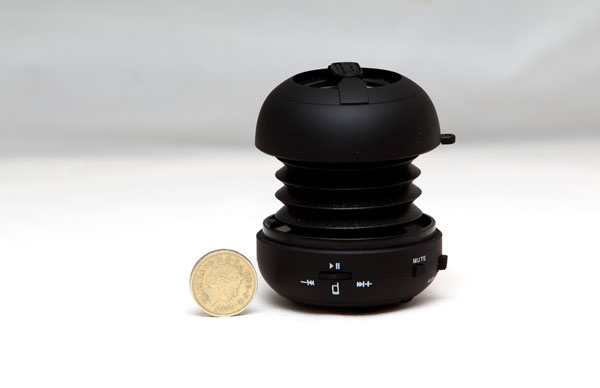 Offering sustained output for up to 11 hours; the X-mini KAI Capsule Speaker is rechargeable via the connecting audio cable that tucks neatly into its base.

The Bluetooth feature means that you can control tracks and volume from your MP3 player, mobile phone or Bluetooth equipped device. You can even use it as a Bluetooth dongle to add more speakers. And with its built in microphone function, hands free calls are a doddle!

All in all one handy little revolutionary gadget!

Specs for the more techy out there!
Dimensions: 50.0mm X 62.0mm (closed resonator)
Weight: 95.2g
Speaker: Magnetically Shielded 40mm (4Ω)
Loudspeaker Output: 2.5W
Frequency Response: 100 Hz – 18 kHz
Signal-to-Noise Ratio: ≥89dB
Distortion: ≤0.3%
Playback Time: Up to 8 hours
Battery Capacity: 550mAh
Battery Voltage: 3.7V
Battery Charge Time: At least 2.5 hours
Operating Frequency Range: 2.4GHz – 2.48GHz
Wireless Range: Up to 10 metres/33 feet
Bluetooth Compliant: v2.1 + EDR
Bluetooth Profile support: A2DP Stereo
Bluetooth Playback time: Up to 4 hours
Talk Time: Up to 8 hours
Microphone Sensitivity:-34db

Rating
Build ****
Ease of Use *****
Function *****
Value****

Overall **** for more information about xmini speakers click here